When you start to earn, you need to start saving and plan for your retirement. The best way to do that without much hassle and cost, invest in the National Pension System (NPS). And the easiest way to invest in NPS is through one of India's top investment platform Paytm Money.
Paytm Money has launched the National Pension System or NPS on their platform, offering a simple and quick digital investment option to save for your retirement. It's also the first online platform to get approval from the Pension Fund Regulatory and Development Authority (PFRDA).
Know about NPS
Those who may not know, National Pension System (NPS) is a Government of India initiative to provide old-age income and more importantly social security coverage to all Indian citizens. The investment option is available to all citizens between the age group of 18 to 65 years. It's a smart pension scheme that would help you to build a retirement corpus in a systematic way for the future. Along with it, you would also receive a regular income for your post-retirement life.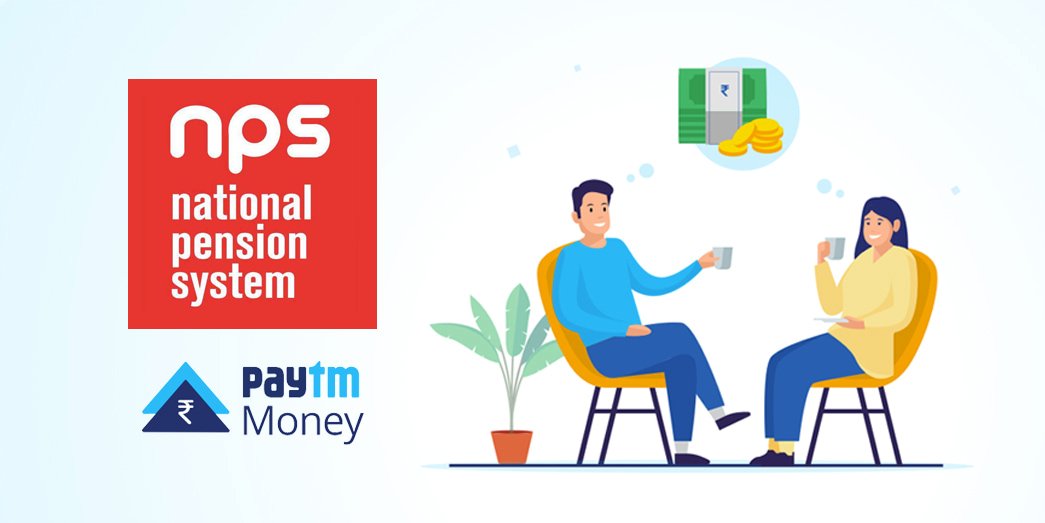 NPS offers two tiers to invest in – Tier 1 which is a tax saver scheme, but has a lock-in period till your 60th birthday. Tier 2 does not offer any tax-saving benefits but offers zero lock-in period (withdraw the money anytime). The Tier 2 scheme is an add-on to your Tier 1 scheme. So, you need to have a Tier 1 account to open a Tier 2 account.
In both schemes, you're allowed to invest in a mix of different asset schemes. This includes Equity (E), Government Securities (G), Corporate Debt (C) and Alternative Investment Funds (A). Thus you could create a diversified portfolio that could earn inflation-beating returns and at the same time build a large corpus.
As you have learned both schemes are market-linked. NPS has been designed in such a way to dynamically change and automatically rebalance your portfolio as per your age and risk profile. Equity exposure gets gradually reduced with age and Debt exposure increases for a stable investment as you grow older.
It's advisable that you restrict investments in Tier 1 scheme as per your tax-saving needs. Otherwise, your extra investment will get locked in until you reach 60 years of age. Any extra investment you may need (over and above the tax saving) need to be done on Tier 2 scheme which offers liquidity to your money.
Some advantages of investing in NPS
Start investing as low as Rs 1000.
Build a retirement corpus for your future in a systematic way.
Get regular monthly income in your post-retirement life.
Tax benefits of up to Rs 1.5 lakh under Section 80 CCD (1) + additional tax benefits of up to Rs 50,000 under Sec 80CCD (1B). The additional tax benefit is over and above the Rs 1.5 lakh deduction under 80C. Thus you could get a tax benefit of around Rs 2 lakh per year when investing in NPS.
Returns earned on NPS are tax-free and also any corpus amount withdrawn at retirement is also tax-exempt.
One of the lowest cost pension product with an annual investment management fee of just 0.01 per cent.
Market-linked returns with an option to invest in equity or debt schemes based on your risk profile.
Auto-rebalancing or active choice based rebalancing of your portfolio every year.
Invest in NPS on Paytm Money
Paytm Money allows you to invest in both Tier 1 (Tax Saver scheme) and Tier 2 (Zero Lock-in Period scheme). There are eight pension fund managers (PFM) registered under PFRDA and Paytm Money offers seven out of them. This includes Aditya Birla Sun Life Pension Management Limited, HDFC Pension Management Company Limited, SBI Pension Funds Put Ltd, ICICI Prudential Pension Funds Management Co Ltd, Kotak Mahindra Pension Fund Ltd, UTI Retirement Solutions Ltd and LIC Pension Fund Ltd.
You could set the preference for NPS investment in Paytm Money based on your risk profile and age. Like, Aggressive – where you could have a maximum equity exposure of up to 75 per cent till the age of 35. Moderate – where equity exposure is limited to 50 per cent of your investment up to the age of 35. Conservative – where maximum equity exposure is limited to 25 per cent of your total investment in NPS (till the age of 35). Investments are auto-rebalanced every year when you opt for auto-choice (above preferences).
You could also opt for custom preference with an active choice where you could decide your asset allocation. There would be a restriction of a maximum of 75 per cent asset allocation in equity to age 50 and five per cent to alternative investment funds.
To get started with NPS investment in Paytm Money, you need to have the Paytm Money mobile app and then complete your KYC. Once KYC is verified, you could choose the Tire 1 or Tire 2 (or both schemes), your investment preference and preferred pension fund manager. Once decided you could start investing as low as Rs 1000.
---
It needs to be noted that, there are only 13 lakh investors enrolled in the 'All Citizen Model' of NPS. The model was launched in 2009 allowing any individual to invest in NPS. This shows the difficulty people are currently facing in enrolling to NPS. Paytm Money could tap on this opportunity by offering a simple and intuitive digital investing experience.
Note that you need to make a minimum investment of Rs 1000 every year to avoid your NPS account from getting frozen. As always, investments are subject to market risks, read all scheme related documents carefully.