Updated at December 31, 2017:
It seems Google has pulled off YouTube app support from Amazon FireTV Stick And Echo Devices on 31st December 2017 itself. Of course, this will be the worst Happy New Year GIft to Amazon from Google. However, users can still access YouTube web via Firefox for Fire TV and Silk Browser.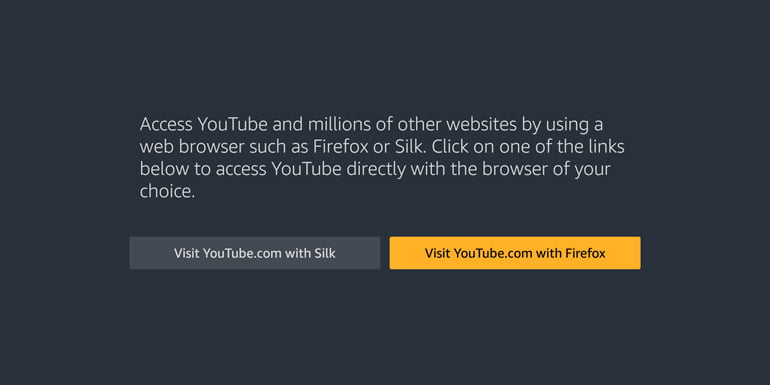 ---
Our original story from Tuesday, February 6, 2018, follows:
It seems Google has decided to pull the plug on YouTube app for Amazon streaming devices. An advance notification is already showing up on these devices which include Fire TV Stick, and Echo Show. One of the many reasons being the lack of support for Chromecast by Amazon Prime app.
YouTube App Notification
The app notification says "Starting on 1/1/2018, YouTube will not be available on this device. You can continue to enjoy your favorite creators and videos in many other ways. Please visit https://goog.gl/LefFGe for a list of devices you can use."
In the process of promoting Amazon products, they have unlisted similar items from competitors like Chromecast, Google Home, Apple TV etc. To which Google responded by pulling of Amazon's access to YouTube contents. Moreover, Google isn't happy with the YouTube version that Amazon offers with their devices. Given the fact that Google has improved the YouTube app experience to a great extent in the past two years.
"We've been trying to reach an agreement with Amazon to give consumers access to each other's products and services. But Amazon doesn't carry Google products like Chromecast and Google Home, doesn't make Prime Video available for Google Cast users, and last month stopped selling some of Nest's latest products." a Google spokesperson told.
Even after the block, Amazon managed to bring YouTube back to their platform by implementing a web version of the app. This version also integrates Alexa voice controls which according to Google is a violation of its Terms of Service. Recently, Amazon also removed the Nest range of home automation products which they previously marketed as "working with Alexa". The timing of this stunt by Amazon clearly conveys the message that Jeff Bezos isn't happy with Google's approach.
Conclusion
Clearly, this tug of war between these two giants isn't benefiting the customers and is a violation of net neutrality. According to an Amazon spokesperson, Google is setting a disappointing precedent by selectively blocking customer access to an open website. While Amazon is also flexing its muscles to prove they aren't weak. However, the present tussle has put the content subscribers in a dilemma. Let's hope they come to a mutual understanding as soon as possible. In the meantime, you can request YouTube team for supporting Amazon devices here, Peace!