You know and loved the stories in WhatsApp and Instagram. The micro-blogging platform Twitter is adapting and testing its own version of stories called the Fleets. And now the company is rolling out the Fleets to its users in India.
Twitter Fleets still in the early testing phase and currently available to users in India, Brazil and Italy. You could access the feature in the latest version of both Android and iOS mobile apps.
So what're Twitter Fleets? Basically, it's way similar to what you may have used in WhatsApp stories and Instagram stories. Fleets are a way to share your fleeting thoughts. It sits top of your screen and to view them tap on a Twitter user avatar. There can be any number of Fleets per user and can be viewed by swiping downwards. To advance to the next users Fleet, you need swipe right or left.
Unlike Tweets, Twitter's new Fleets don't get Retweets, Likes, or public replies. Thus it won't show up on Twitter (or Google) search or moments and can't be embedded on an external website. People can react to your Fleets with direct messages or DMs (if you have allowed it). You'll also be able to react to a Fleet with a smile or emoji. And this Fleets will disappear after 24 hours.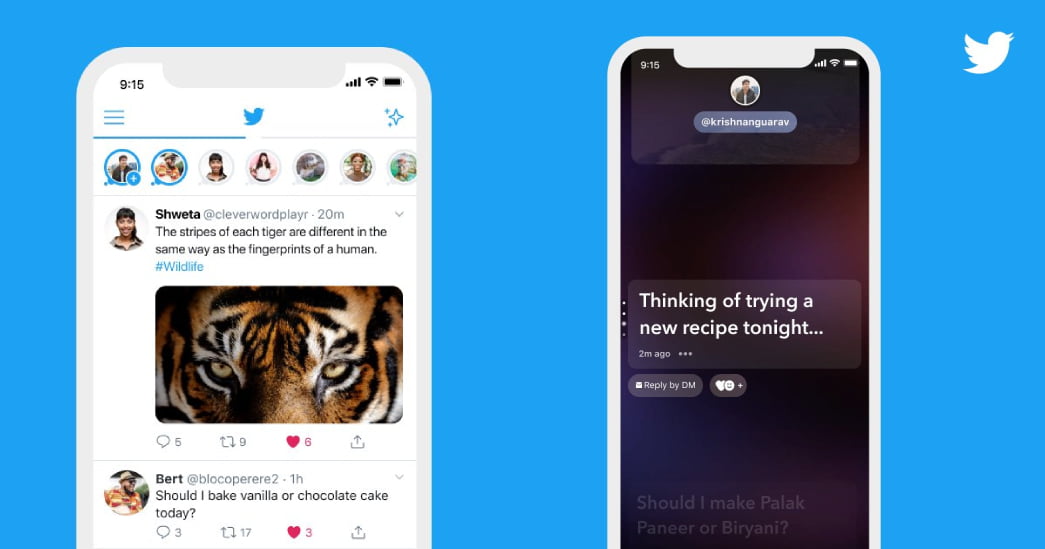 Note that, Twitter Fleets aren't private stories, but little less accessible publicly. Instead of showing up in people's timelines, Fleets can only be viewed by tapping on your avatar. So, people (who follow you and even if they don't follow you) can visit any public Twitter profile and tap the avatar to view their Fleets.
Explaining Fleets, Twitter Product lead Kayvon Beykpour tweeted saying, "People often tell us that they don't feel comfortable Tweeting because Tweets can be seen and replied to by anybody, feel permanent and performative (how many Likes & Retweets will this get!?),".
He further tweeted saying "We've been listening to this feedback and working to create new capabilities that address some of the anxieties that hold people back from talking on Twitter,".
How to Twitter Fleets
You could easily start using Twitter Fleets and share your fleeting thoughts. On your Twitter mobile app (update to the latest version to get the Fleet feature enabled) you could find stories like Fleets from users you follow. To add your own Twitter Fleets, tap your avatar with the '+' symbol in it.
In Fleets compose section you could add texts, photos or gif and videos (from your camera or gallery). Normal users could upload videos up to 2 minutes and 20 seconds in length (or up to 512MB size) in Fleets. Verified publisher Twitter accounts can be upload videos up to 10 minutes in length.
Once finished editing, press Fleet button to make your fleeting thoughts live and public. Once published, you could get stats of who and how many people have seen your Fleet. Note that Twitter Fleet will disappear after 24 hours.