Updated at June 30, 2020:
To compensate users on the network disruption and outage, Jio Fiber is crediting them with free data and voice benefits. Selected Jio Fiber customers are now getting a notification (in the form of SMS and same on MyJio app) about the addition of an unlimited data and voice pack for two days, at no cost or for free.
"Dear customer, it is Jio's endeavour to provide the best service to you at all times, as we are a customer-obsessed organisation. We believe you experienced some difficulties with JioFiber services a few days ago. In lieu of the same and as a small gesture from our side, we have credited your account with Unlimited data for 2 days, at no cost. – Team JioFiber", read an SMS from Jio team.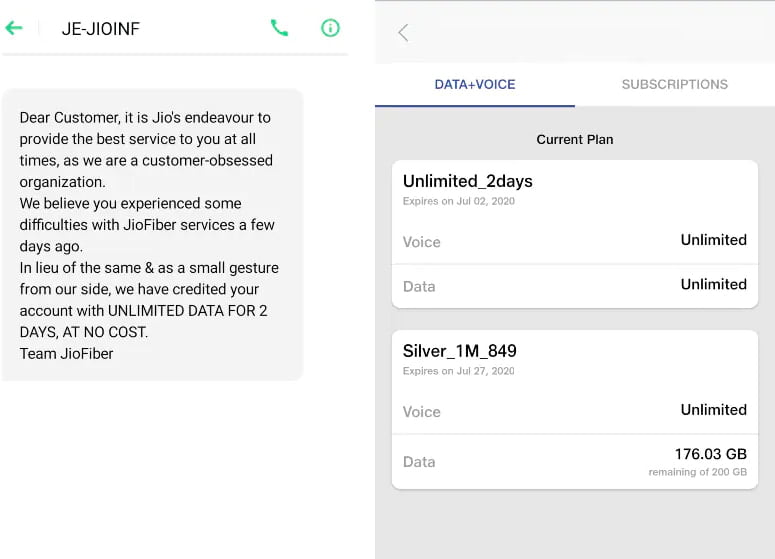 The free two-days unlimited data and voice plan or Unlimited_2days plan seems to be added over and above your current Jio Fiber plan. It offers unlimited voice calls, unlimited data usage at 100 Mbps and premium access to all OTT app for two days.
---
Our original story from Tuesday, June 30, 2020, follows:
If you have a Jio Fiber broadband connection and for the past few hours not able to connect to the internet, then you're not alone. On Monday (22nd June) Jio Fiber broadband service faced massive network outage across India, especially in certain cities in North India. Users were not able to connect to the internet, and most of the time Jio Fiber router or STB was blinking red.
Realtime outage monitoring service Downdetector also showed reports of Jio Fiber service outage, which started around 3.30 PM. Asper their map, the network outage seems to be effected, badly in Mumbai, Delhi, Jaipur, Kolkata, Ahmedabad, Hyderabad and Bengaluru.
With more people working from home and it's been a Monday, Jio Fiber users have taken to Twitter to vent their frustration. JioCare, the customer care service for Jio services acknowledged the outage. They in a tweet said, the broadband service is experiencing temporary issues with data services, which will be resolved shortly.
It seems after almost six hours of outage, Jio Fiber broadband service was restored. According to a statement issued to The IndianExpress, a Jio Fiber spokesperson said, "Some of our JioFiber customers experienced service issues in certain cities in North India. Other Jio customers across India continue to avail our services. We regret the inconvenience faced by our valued customers in some areas,".
If you're still not able to connect to the internet on Jio Fiber, then restart or power off and power on the Jio Home Gateway (Jio router). Wait for 3 to 5 minutes for the router reboot to complete. Once rebooted, check if you're getting internet. If the issue persists then contact JioCare on Twitter or through MyJio app.